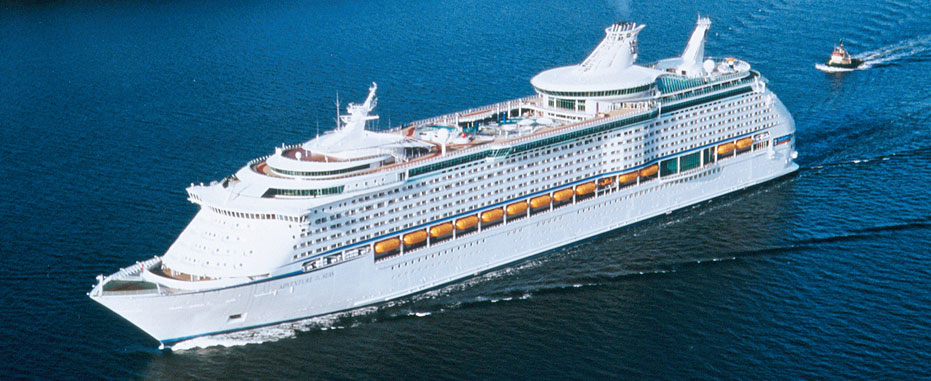 This beautiful ship is where I spent my summer vacation. I only had one week free. How perfect. I would be taken care of, fed, entertained, and allowed to rest. It was exactly what I needed. I am a workaholic. A cruise takes care of you, takes a burden off your shoulders, holds your hand, and pushes fun into your life. I was on the Explorer of the Seas headed for Bermuda.
We sailed out of Cape Liberty, NJ and had this view of New York City with the Staten Island Ferry heading towards her.
…….everyone went up on the deck to see the ship sail under the Verazano Bridge………..
………….there was a Captain's Welcome Party on the Promenade with free-flowing champagne and live music to dance to……………….
………..we all jammed onto the Promenade to enjoy the party…………it was our first real look at all the shops and restaurants as well……………..
……………this is what the Promenade looks like during the day…..some cabin windows open out to the Promenade and it is beautifully decorated and filled with light…………..
…………at one end of the ship is the Palace Theater, where all the broadway-style shows were held…….
………….this is looking up from the Promenade at the huge piece of artwork hanging from the ceiling……
………….this is looking down at where the art auction is held on a lower deck……….the curves and flow of the interior space of the boat were eye-catching and made it a pleasing experience to stroll around………..
……….the stores along the Promenade were filled with high quality items…..I thought these Lamborghini watches looked pretty cool………..there was also an English Pub and a French inspired cafe…………and a Ben & Jerry's…………
………………you can see the cafe below under the red awning on the left……..I used to stop in for coffee or little croissant sandwiches stuffed with ham, cheese and tomato……..they also served pizza and cookies every day………

….I didn't take a picture of the cabin, but did of the hand-painted tile detail in the bathroom ………….
…………yes, those are my feet! Lounging and listening to a great band by the pool. Ended up dancing under the stars for hours….the entertainment on the boat was superb.
……….there is a huge gym facing the ocean with steam, sauna, whirpools and classrooms…..
…………and an adults only pool area with its own bar and whirlpools………………
…and you can jog and walk the upper deck for working out in the sun and sea air….and in the evening you could either dine at your whim in the large buffet area or dine formally in the dining room below….

……..this cruise was only five days to Bermuda, so since I had been there many times before, I decided to spend my time near where the boat was docked on King's Wharf. It had everything I wanted. A French pastry shop with WIFI. A fabulous British pub that makes their own beer and delicious Bermudian fish chowder. Shopping. A crafts center. Entertainment and bands at night. And a sweet little beach you could snorkel from with a restaurant, bar and bands. And I had time to rest, sleep, and rejuvenate. It's almost a perfect quick trip out of New York City, getting you to a place far enough away that you feel as if you have been somewhere, and taking very good care of you. I can't wait to go back.
Related Post:
Cruise Cuisine: Explorer of the Seas